Heroes United is a campaign that honors the individuals who "Make America Better". This includes nurses, doctors, policemen, teachers, firefighters, EMS, truckers, manufacturers, cashiers, cooks, and other essential workers in the community.
We must prepare for the mental health issues that arise from these types of work like depression, anxiety, PTSD, possible suicide, among others.
Vet-Fest and Heroes United hand out hundreds of Humanitarian Awards to Front-Liners and Veterans, in order to show support and to recognize the work that these people do.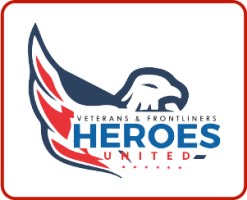 The coronavirus has devastated this world and this country, It has taken the lives of hundreds of thousands of Americans and has left this nation living in fear of who will be next. These outstanding Veterans and Front-Liners have stepped up and continue to stand in the gap, ensuring the country remains strong and unified.
Just like our military, we want to thank them by giving back, in return for them putting their lives on the line. It is Heroes United that honors the ones who tirelessly work to Make America Better for all, no matter one's race, gender, or religious affiliation.
Vet-Fest has included Heroes United across the nation to participate in our 2021-2025 event calendars as our welcomed guests. At Vet-Fest events, participants can foster healing amongst camaraderie as they work to rebuild their lives.
Vet-Fest and Heroes United want to be positioned to thank our Heroes for their dedication, service, and sacrifice to this country. Vet-Fest is putting together a task force that will assist our Heroes in their transition process(es), while building holistic and wellness models to achieve total wellness.
Know of a Veteran or Front-Liner that deserves recognition? Nominate them below for a Humanitarian Award, or you can donate to Vet-Fest to support our cause!