Vet-Fest is a nonprofit organization providing events and activities of a patriotic nature to bring reunite Veterans and Frontliners with the community through unity and camaraderie. Since 2011, Vet-Fest has hosted over 70 events ranging from Concerts, to 5K runs, to car shows, to Veterans' Breakfasts and more! We also participate in many community events that help us continue to reach out to more veterans, frontliners, and their families.
2021 also saw the founding of our Heroes United campaign that aims to honor the humanitarians and Frontliners that dedicate their lives to serving the community.
As our organization grows, we look forward to expanding our presence in cities and states around the nation. We have created templates that can be duplicated nationwide in collaboration with city, state and federal entities, allowing us to serve more veterans and their families.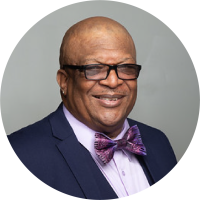 Entrepreneur | Visionary | Veterans Advocate | Speaker
Leonard Morgan, an Atlanta Georgia native, the oldest of 5 (siblings), has always possessed leadership qualities. Serving in the U.S. Army from 1979 to 1983 in Fort Ord, California 3rd of the 32nd Infantry Brigade and as the 3rd of the 5th Infantry Brigade in Fort Colby, Panama Central America, he worked in supply and in the armory.
After the military, in his civilian life he then became a successful Entrepreneur in the field of Logistics for over 30 years.
Being a veteran himself he felt a desire to assist other veterans with needed services. In February 2011 he launched Visions Outreach Inc., a 501(c)19 non-profit organization that would allow his expertise in logistics to focus his experience on helping veterans and their families.
From the start of Visions Outreach Inc., with the many program services available he also launched other companies that have been established to further enhance his quest to serve Veterans to include: Visions Institute and Foundation (501(c)3 which is the service organization providing housing, employment, education, and veterans family programs; Vet-Fest Inc. also a 501 (c)3 organization which host a wide variety of community events to honor our veterans and their families while supporting the overall initiative for the quality of mental health and camaraderie for veterans. 
As these organizations continue to grow and expand, he has the further desire to extend the programs into other states outside of Georgia. 
Leonard is a true Visionary and Humanitarian that he credits his faith which allows him to serve others as a catalyst to change to the world.